Noandishan Pishro Talab
Make your company sharp and update with NOPTCo. services. Noandishan Pishro Talab will give you good pieces of advice on how you can improve your activities, the team works, motivations, change managements, updating your key managers and whatever you need with consultation, arranging relative workshops/seminars national and internationally. Later we also offer you on using some new technologies for your companies improvements in meetings and communications. Beside, we would continue to serve Educational Material with new products soon.
Iran ranks 1st among world's top sponge iron producers: official
February 14, 2017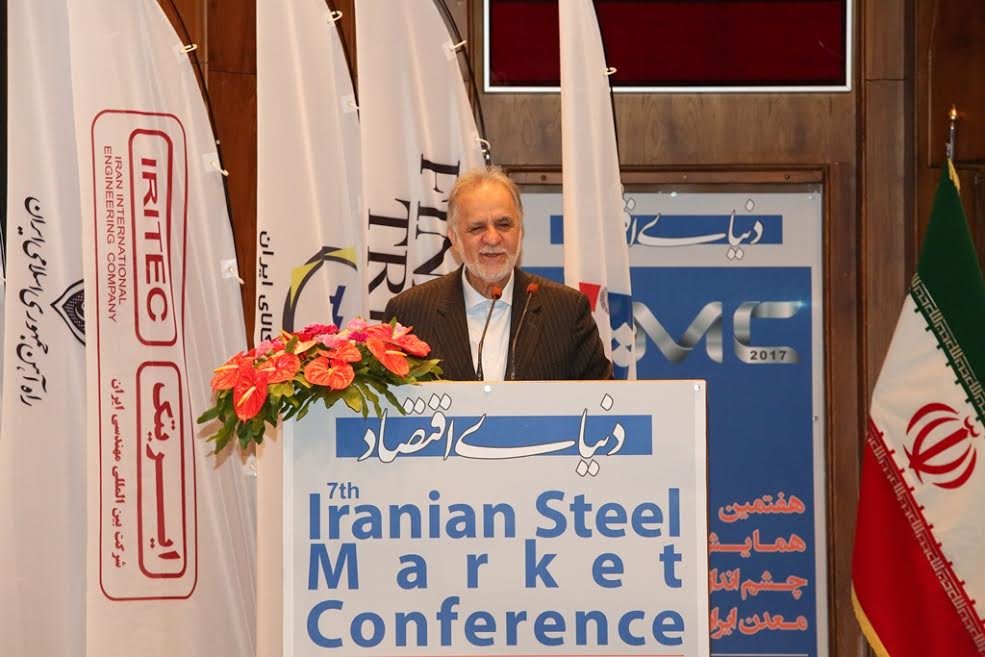 TEHRAN – Iran produced 14.5 million tons of sponge iron in 2016 to stay at the top of producers of this type of iron in the world, according to Mehdi Karbasian, the head of the Iranian Mines and Mining Industries Development and Renovation Organization (IMIDRO).
The official made this announcement in the 7th Iranian Steel Market Conference in Tehran on Tuesday, IRIB reported.
"Iran's sponge iron production accounts for 25.3 percent of the world's total output and our steel industry is very competitive considering production costs," he said.
Direct-reduced iron (DRI), also called sponge iron, is produced from the direct reduction of iron ore (in the form of lumps, pellets or fines) to iron by a reducing gas or elementary carbon produced from natural gas or coal.
Karbasian also noted that the country's annual crude steel output is planned to reach 55 million tons according to its outlook plan for 2025.
According to the latest report published by the World Steel Association, Iran produced 17.89 million tons of crude steel in 2016, registering an 11-percent growth compared to the figure in 2015.
Iran, Japan Ink Banking MoU
TEHRAN (FNA)- The Central Bank of Iran signed a memorandum of understanding (MoU) with Japan's Financial Services Agency (JFSA) in a bid to facilitate the interactions between the two countries' accredited banks.
"An MoU was signed between CBI and JFSA to pave the way for sharing banking experiences between the two countries," JFSA Director General for International Affairs Massatu Kanda said on Tuesday.
Deputy Governor of Central Bank of Iran Farshad Heydari said that Tehran and Tokyo have had good cooperation in the field of training manpower.
The Japanese government expressed willingness to allocate $6.9 billion to fund five projects in Iran to further expand bilateral relations between the two countries.
"Tokyo is going to continue its assistance of up to 40 billion Japanese Yen annually for the next four years starting in 2017," the Japanese embassy in Tehran said on a press release.
The embassy noted that the allocation of the aid was confirmed in the Brussels Conference on Afghanistan in October 2016 and will be extended through international organizations and UN bodies.
The projects include a contribution of one million dollars through the United Nations Development Program (UNDP) to restore Lake Oroumiyeh, approximately two million dollars in humanitarian aid assistance for the Afghan refugees through the United Nations High Commissioner for Refugees (UNHCR) program, around $1.9 million funneled through the United Nations Office on Drugs and Crime (UNODC) to be used on border controls, fighting drugs, customs cooperation and money laundering, $500,000 to promote integration of industries in Chabahar port city in the Persian Gulf through a program to be implemented by the United Nations Industrial Development Organization (UNIDO) and finally $1.5 million in donated funds funneled through the International Committee of the Red Cross for emergency activities in Iran.